ANCHOR History
Mission Statement:
ANCHOR is a multicenter clinical research group investigating adolescent and adult hip disorders. We are focused on improving patient care through research, education and mentorship.
Purpose and Long-Term ANCHOR Goal
To collect data from patients undergoing hip surgery in order to analyze the effects of surgical treatment on patients with hip problems. Over time, we hope to better identify and characterize the most important determinants for treatment outcomes while improving the diagnosis, surgical care, and quality of life of patients with pre-arthritic hip disease (femoroacetabular impingement and dysplasia).
Today, numerous medical centers and surgeons are part of this group of highly-dedicated surgeon researchers who hope to, over time; identify the most important determinants of treatments outcomes.
History of ANCHOR: From Concept to Creation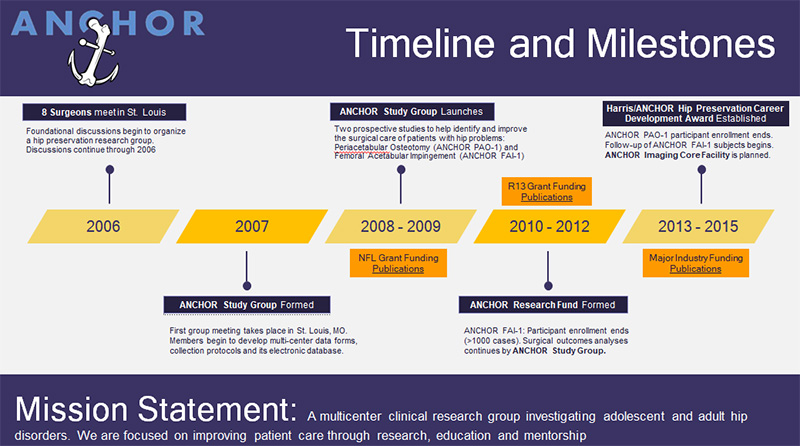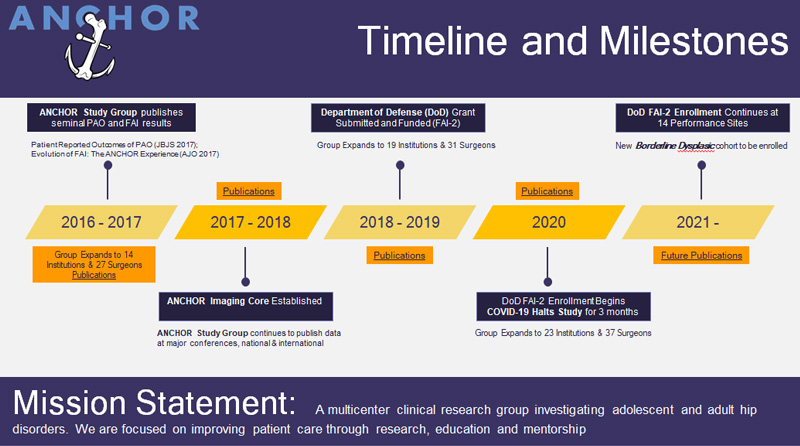 In 2006, during AO Hip Preservation Course, several leading orthopaedic surgeons began foundational discussions regarding the need to organize a hip preservation research group. Study group discussion was organized by Dr. Michael Millis, a founding member of the ANCHOR team.
In 2007, a meeting took place in Saint Louis, Missouri to officially organize a core group of orthopaedic surgeons interested in advancing their research efforts through multi-center collaboration and investigation. During this year, multi-center data forms, data collection protocols/guides and an electronic database were developed in collaboration with Dr. J. Phillip Miller, Director of the Biostatistics Core at Washington University in St. Louis. Monthly surgeon conference calls were scheduled and retrospective, collaborative studies were conducted throughout the year.
In 2008, the Academic Network of Conservational Hip Outcomes Research "ANCHOR" study group was formed, prospective periacetabular osteotomy (PAO) data collection began, three new sites were added to the group (Detroit-Beaumont, Texas Scottish-Rite Hospital and University of Colorado) and additional grant funding was provided by the NFL and Washington University's Institute of Clinical and Translational Sciences.
In 2009, prospective data collection on femoroacetabular impingement (FAI) surgery began to be collected, X-ray and disease classification was studied and additional funding was provided by Barnes Jewish Hospital (BJH) in St. Louis, Missouri.
ANCHOR Surgeons, Site Locations, and Their Institutions
Updated on 1/13/2023 (40 surgeons at 25 sites)
ANCHOR Site
Location
Surgeon(s)
Beaumont Hospital-Royal Oak
Royal Oak, Michigan
Ira Zaltz, MD
BocaCare Orthopedics
Boca Raton, Florida
James Ross, MD
Boston's Children Hospital - Harvard
Boston, Massachusetts

Michael Millis, MD

Young-Jo Kim, MD, PhD.

Yi-Meng Yen, MD, PhD.

Eduardo Novais, MD

Travis Matheney, MD, MLA
Children's Hospital of Los Angelos
Los Angeles, CA
Rachel Goldstein, MD, MPH, FAAOS
Children's Hospital of Philadelphia (CHOP)
Philadelphia, Pennsylvania
Woody Sankar, MD
CHU de Québec - Laval Universitè
Quebec City, Quebec, Canada
Etienne L. Belzile, MD, FRCSC
Hospital For Special Surgery
New York, New York

Ernest Sink, MD

Robert Buly, MD
Mayo Clinic
Rochester, Minnesota

Rafael J. Sierra, MD

Robert Trousdale, MD

Aaron Krych, MD

Bruce Levy, MD
NorthShore University HealthSystem
Chicago, Illinois

Asheesh Bedi, MD
Northwestern Medicine
Chicago, Illinois
Michael Stover, MD
Ottawa Research Institute
Ottawa, Ontario, Canada

Paul E. Beaulè, MD, FRCSC

Geoffrey Wilkin, MD, FRSC
San Antonio Military Medical Center
San Antonio, Texas
Matthew Schmitz, MD, FAOA, FAAP
Stanford Children's Health
Palo Alto, California
Stephanie Pun, MD, FAAOS
Texas Children's Hospital
Houston, Texas
Scott Rosenfeld, MD, FAOA, FAAP
Scottish Rite for Children
Dallas, Texas

David Podeszwa, MD

Henry Ellis, Jr., MD

Daniel Sucato, MD, MS

William Morris, MD
The Children's Hospital of Eastern Ontario (CHEO Research Institute)
Ottawa, Ontario, Canada
Sasha Carsen, MD, MBA, FRCSC
Twin Cities Orthopedics
Edina, Minnesota
Christopher Larson, MD
University Hospital Cleveland Medical Center
Cleveland, Ohio
Michael Salata, MD
University of Colorado (Children's Hospital Colorado)
Aurora, Colorado
Stephanie Mayer, MD
University of Iowa
Iowa City, Iowa

Robert Westermann, MD

Michael Willey, MD
University of Michigan
Ann Arbor, Michigan
Ira Zaltz, MD (Faculty as of Summer 2022)
University of Utah Health
Salt Lake City, Utah
Christopher Peters, MD
University of Wisconsin - Madison
Madison, Wisconsin
Andrea Spiker, MD
Vanderbilt University
Nashville, Tennessee
Jon Schoenecker, MD, PhD.
Washington University School of Medicine
Saint Louis, Missouri

John Clohisy, MD

Jeffrey Nepple, MD

Cecilia Pascual-Garrido, MD, PhD.

Perry Schoenecker, MD